The Beginning
The Bicycle Tree initially began through the efforts of a number of volunteers who met while preparing and serving food for the homeless in Anaheim. Hector Madrigal-Ramirez, Gina Marzolo, and Paul Nagel were primary among those who started the organization.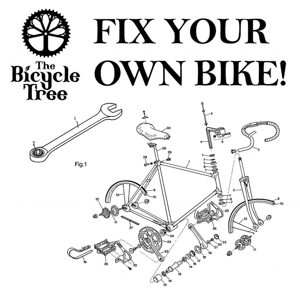 The Bicycle Tree held its first public workshop in north central Anaheim, near La Palma Park, on April 1st, 2006. The Bicycle Tree operated out of a house in this low-income neighborhood until January 2008. Workshops were held on the driveway there every Saturday. Many youth in the neighborhood regularly visited these workshops. Four of them – Luis, Ivan, Byron, and Edgar (pictured in slideshow above) – took particular interest in bicycle repair and participated in a preliminary Earn-A-Bike program.
During our time at the Anaheim house, bicycle donations were accepted. Dozens of these bikes were refurbished and given away to people that needed them. About 150 more were refurbished and sold, or sold "as is", with all income going toward The Bicycle Tree. About 50 bikes that could not be salvaged had usable parts removed and the frames sold for scrap recycling. After leaving the house in Anaheim, we have held reoccurring workshops on a mobile basis in Santa Ana, Orange, and Fullerton. Since January 2010, we have used two heavy-duty bicycle trailers (pictured below) to haul all of our tools, equipment, tables, and canopies to our workshops.
In addition to our regular workshops, we offered our services at over 30 events throughout the county, particularly in Santa Ana, our city of focus. These events have included:
Townsend-Raitt Street Fiesta and Resource Fair
Día de los Niños Celebration
St. Joseph Heritage Healthcare Kids Health and Safety Fair
Building a Bike Friendly City – Tour of Long Beach
City of Santa Ana Earth and Health Fest
2012 WeConnect Health Care Enrollment & Resource Fair
CSUF Social Justice Summit
City of Santa Ana's Pacific Electric Bike Ride Festival
State Senator Lou Correa's Health & Wellness Fair
Veteran & Military Resource Fair & Home Workshop
Leave Only Footprints Environmental Awareness Festival at Morasha Jewish Day School
Santa Ana River Trail Bike Safety Event
714 Nutrition and Fitness Fair
Patchwork Indie Arts & Crafts Festival
2012 Treehugger's Ball
Pedal Power bicycling event at The Ecology Center
Cycle for Health Community Bike Ride (COCCHC/KidWorks)
We continued to expand and diversify in our activities. In addition to our maintenance workshops, we made implementing infrastructure improvements and leading community bike rides part of our mission.
As our volunteer base and connection with the community grew, we began to receive recognition for our work. The Bicycle Tree has been awarded Certificates of Recognition from the Santa Ana City Council and the California State Assembly.
In 2013, after seven years of mobile workshops, bike donations, and community outreach, we were ready to put down roots. We launched a Kickstarter campaign, and on January 25, 2014, we opened Orange County's only nonprofit community bike center and shop at 811 N. Main St., Santa Ana, CA.
Today, the Bicycle Tree is Orange County's only nonprofit community bike center and shop
Since opening our location, we've been able to keep expanding our services and community outreach.
We've had more participants in our flagship Wrench and Ride program. We continue to donate bikes to clients of assistance programs here in Santa Ana, helping provide mobility for those who need it. Thousands of people have fixed up their bikes during our four-days-a-week workshop hours. We have held about 80 classes about bike maintenance and bike safety to provide a comprehensive introduction to important information for bicycle users. Together with other local groups, including Santa Ana Active Streets, we've helped make a wide range of bicyclist infrastructure improvements a reality throughout Santa Ana. We've hosted almost 100 group bike rides and have continued to participate in a wide range of special activities and events, including a movie screening, speaker event, bike swap meets, Noche de Altares, open streets events, bike valet services, and Santa Ana's first open streets event, SOMOS.
The book of The Bicycle Tree has just begun to be written!
Want to see what we're up to this very minute? Check out our Calendar of Activities, or visit our facebook or instagram!
Generosity campaign video
In early 2016, we had a Generosity fundraiser. The video from that fundraiser features includes an overview of our history, as well as photos from our humble beginnings all the way through 2016. (If the video inspires you to donate, please go here.)